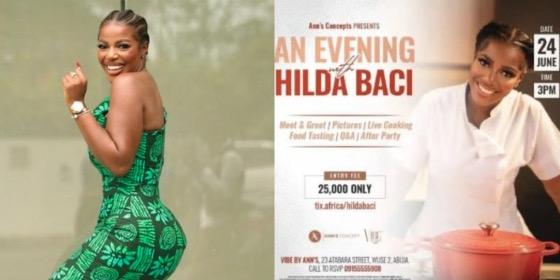 27-year-old Nigerian chef, Hilda Effiong Bassey, better known as Hilda Baci has broken her silence after an event planner threatened to sue her for publicly denying having any knowledge of their scheduled event after reportedly accepting an advance payment of N3million.
Recall some days ago, Hilda was criticized for charging N25,000 for a live cooking meet-and-greet scheduled to hold in Abuja on June 24.
The Chef denied having anything to do with the event, stating that she won't be in Abuja. The organizer, Vibe by Ann threatened to sue her for denying knowledge of the event and accepting an advance payment.
Taking to Instagram live to defend herself, Hilda Baci admitted that she was paid the N3 million as stated by the restaurant owner, but said it was for an appearance at a show she felt will have other celebrities and events.
Sharing part of their conversation as proof, the Celebrity Chef added that she pulled out of the event after realising that it was built around her and opted to refund the planner. She also revealed that if she's having an event to meet her fans, she will make it free and not charge money.
Watch her speak below:-
Related posts