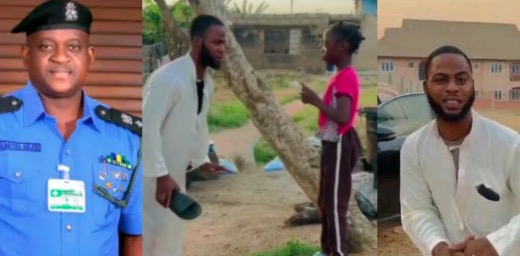 Prince Olumuyiwa Adejobi, the spokesperson for the Nigeria Police, has again called for the arrest of Ibadan-based prankster, Abdullahi Moruff better known as Trinity Guy, as one of his controversial skits trend on social media.
Adejobi, in the early hours of Thursday, June 22, 2023, intensified his call for the arrest of the content creator over a video in which he was seen asking a 10-year-old girl the 'colour of his manhood'.
Describing the video as 'rubbish and criminal', the force PRO said Trinity Guy should be arrested and charged to court.
Adejobi, in response to a twitter post, wrote;
"This is rubbish and criminal. This guy should be arrested and charged to court. We will act as soon as possible. I hate this scene. Child abuse!"
SEE VIDEO AND POST BELOW
This is the second time the force PRO would call for Trinity Guy's arrest in three days.
Adejobi had on Monday, June 19, 2023 called for the arrest of the skit maker over his recent prank video involving some women he pranked with the sound of gunshots.
The police PRO also urged victims of controversial pranks to take legal action against the skit makers involved.
Adejobi argued that the activities of the pranksters create more problems for the police on security management than what they (pranksters) gain from such pranks.
Related posts