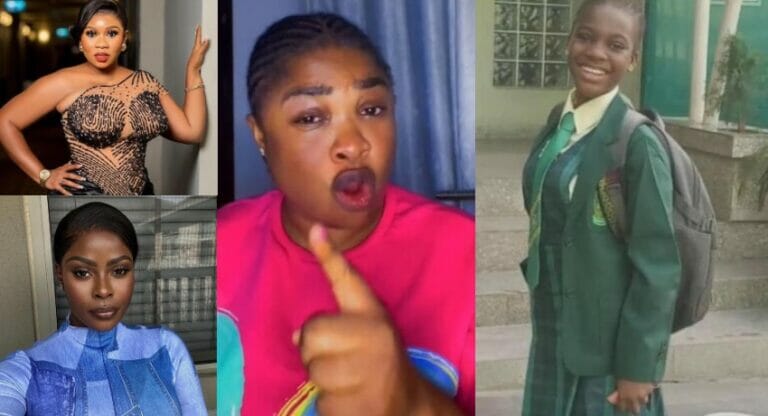 Nollywood actress Wumi Toriola, Big Brother Naija reality tv star Khloe Abiri amongst others have lamented as the Mother of Chrisland student, Whitney Adeniran who died has revealed the autopsy results conducted.
An autopsy revealed that, the 12-year-old Chrisland student who died during the school's inter-house sports event on February 9, 2023, died of electrocution.
The deceased's mother, Mrs. Blessing Adeniran, made this disclosure during an Instagram Live session moments ago.
According to Blessing, while the school claimed her daughter slumped, an autopsy result has shown that she was electrocuted.
Recall that Chrisland School, while reacting to the incident, alleged that about two weeks prior, Whitney had complained of ill health and chose not to participate in the school's march-past.
In a statement released, the school claimed Whitney died "in public view and not under any hidden circumstances."
However, giving an update on the autopsy, Mrs. Blessing Adeniran accused Chrisland School of lying to her about her daughter's death.
She called out the School for making her family go through the trauma due to the autopsy, when they could have just told them how their child died. She said:
"The autopsy result is out and Desola was electrocuted. My daughter died of electrocution. I have been subjected to trauma for the past two weeks. Tomorrow will make it three weeks my baby died. The school made me think I was crazy. They started pushing the narrative of she was sick; she was sickly. They sent letters and publications out.

"People insulted me and my family. My child was electrocuted to death. I told the school I don't want trouble. All I want is answers. They came to my house and knelt down.

"I begged, I pleaded, I said 'Mrs Amao please, I don't know how autopsy is being done but I have browsed it and the image is scary. Please my daughter is already dead, don't make me put her through that, they will butcher her. I beg you in the name of God, you are a mother, help me investigate and find out what happened.

"She said she doesn't know. They refused to investigate. My daughter was butchered for autopsy. She was opened up. They took part of her kidney, liver, stomach contents, blood, brain, bone marrow. Omodesola was butchered just because Chrisland kept protecting their reputation."
See video and reactions below:-
View this post on Instagram
Related posts