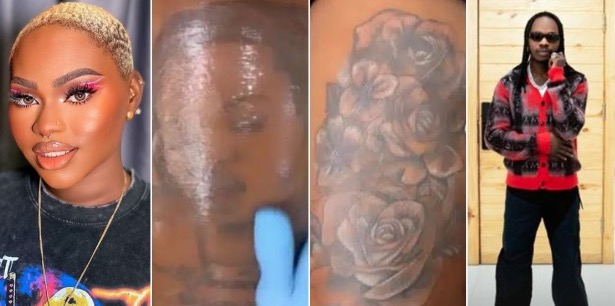 Influencer, Mandy Kiss has recently opened up about her decision to remove the tattoo of her celebrity crush, Naira Marley, from her thigh while addressing the controversy surrounding her choice to cover the singer's face with a flower design.
Taking to her Instagram story, Mandy Kiss shared a reflective note, discussing her personal growth and transformation as an individual.
She acknowledged that she is no longer the same person she used to be, emphasizing that change is an inherent part of life, regardless of the significance of certain situations or people.
In her words:
"You have just one life my g, there's no time for hate, you need to realize nothing is permanent, nothing is guaranteed, everyone and thing is replaceable.

Learn how to adapt to situations quickly if not you'll waste time on meaningless things. Enjoy life, chop it everyday, take care of the people you love, follow your passion, stop giving a fuck about people's opinions, everybody in this world will die eventually,"
Additionally, Mandy Kiss shared a photo of Naira Marley with a heart emoji, indicating that her deep affection for him remains unchanged despite her decision to remove the tattoo. Apparently, the tattoo removal was a personal choice, separate from her feelings towards the artist.
See her posts below:-
Related posts