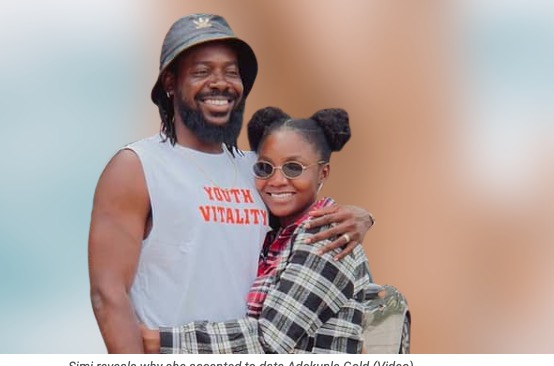 Simi Reveals Why She Accepted To Date Adekunle Gold (Video)
admin, 5 months ago
0
2 min

read
530
Simisola Kosoko, popularly known as Simi, recently shed light on why she accepted to date Adekunle Gold, the renowned Nigerian singer. During an interview with The Beat 99.9 FM in Lagos, Simi revealed the backstory of their love journey, which began with Adekunle Gold reaching out to her on Facebook.
Simi admitted that Adekunle Gold had been sending her messages on Facebook for quite some time, but she hadn't noticed until they eventually started dating. Their first encounter took place at one of Simi's concerts, where she experienced Adekunle Gold's genuine kindness firsthand. It was this quality that gradually drew her closer to him, leading to their romantic involvement several months later.
The talented singer, recognized for her hit song "Stranger," further shared that their relationship spanned five years before they eventually tied the knot in 2019. Simi emphasized that one of the key factors that made her agree to date Adekunle Gold was his niceness, which she found appealing and genuine.
Simi's revelation provides an intimate glimpse into the early stages of her relationship with Adekunle Gold. It showcases how a foundation of kindness and authenticity played a significant role in their journey as a couple. Their love story, which started from an online connection, blossomed over time, culminating in a marriage that has captured the attention and admiration of fans and the public alike.
Simi said;
"In the gospel community, I was pretty well known. And he [Adekunle Gold] had heard my album at that time as well.

"He has been reaching out to me on Facebook, DMing me on Facebook. But I didn't see those DMs until we started dating.

"I don't remember how we eventually linked up again. I had a show Bogobiri, and he turned up. He was very slim at that time with white BYC and jeans. He came to see me perform. I was like, 'Oh hey! He was like, 'Oh! I'm such a fan.' And I was like, 'Okay!' [laughs].

"I don't know, he must have been persistent because there is a friendship that came out from there. I thought he was a really nice guy. We became friends and later that year, he asked me out.

"I mean, as much as I was sounding like all that, I still didn't really have nothing. He was a nice guy and I was like, 'Okay, I don't mind a nice guy' [laughs]."
Watch the video below:-
View this post on Instagram
Related posts