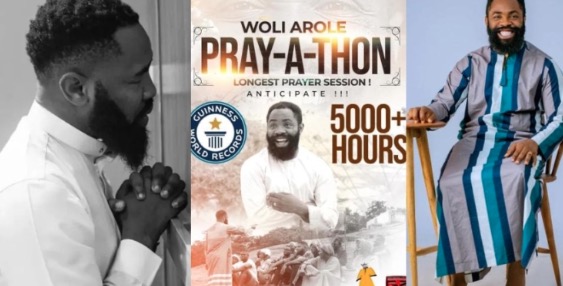 Nigerian comedian cum prophet, Bayegun Oluwatoyin aka Woli Arole has joined the Guinness World Record breaking race, announcing on social media that he is set to embark on a pray-a-thon.
The content creator made the announcement via his Instagram page and said he intends to pray for the longest praying hours—5000 hours (about 208 days).
Arole, who noted that it is a doable act, asked fans and supporters to anticipate the date of commencement.
He tagged the Guinness World Records in his post and other notable personalities while sharing a poster.
The comic act wrote:
"PRAY – A – THON…….

5000 hours……

It is doable….

Anticipate…..

Guinness Book of Record….."
This is coming after a good number of Nigerians' interest peaked following chef, Hilda Baci, surpassing the record for the longest cooking time by an individual, with a 100-hour record time.
Hilda Baci beat Indian chef, Lata Tondon, who had completed the task in 87 hours, 45 minutes, and 00 secs in 2019.
Other chefs have sprung up from Ekiti and Oyo state, consecutively trying to beat Hilda's record which the GWR is yet to make official.
Related posts