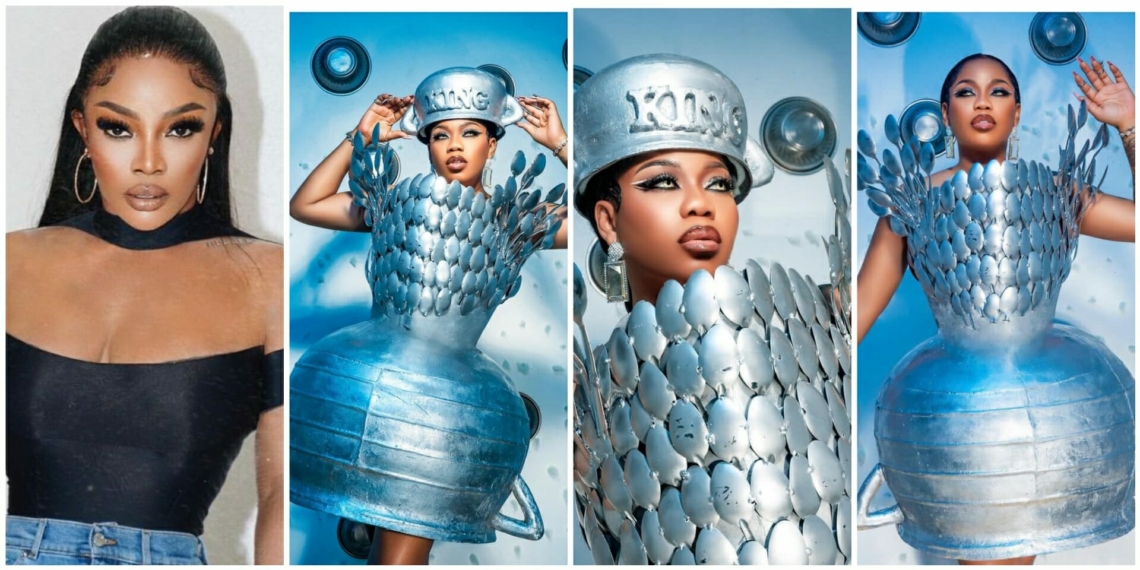 Celebrity stylist, Toyin Lawani leaves netizens in awe as she rolls out some unconventional photos to mark her 41st birthday.
The fashionista took to her Instagram page in the early hours of Wednesday, 1st March, to alert the public to her birth anniversary.
Toyin however left tongues wagging owing to her pot and spoon-themed photoshoot.
A glance at the photos shows Toyin Lawani wearing a big pot at her lower region, spoons used to cover the upper part of her body, and a small pot on her head that served as a cap.
She went on to elaborate on what the photoshoot implies while relating it to the present situation of the country.
She wrote:
"TIANNAH 41
#KOF41 👑👑👑👑
HAPPY BIRTHDAY TO THE KING OF ALL QUEENS👸
AKA THE FASHION GODDESS AKA THE KING OF FASHION,
AKA THE SERIAL ENTREPRENEUR OF OUR TIME 👑
SILVER IS A COLOR OF MODERNITY, GRACE, WEALTH, GLAMOUR, PROSPERITY, FORTUNE, ROYALTY AND ALL GOODNESS WE CAN EVER IMAGINE.
AS I CELEBRATE MY BIRTHDAY THIS YEAR IN SUCH A TIME THAT OUR NATION FIGHTS FOR TRANSFORMATION AND DECIDES ON WHO RULES US TO A BETTER PLACE OF GRACE AND PROSPERITY IVE CREATED AGAIN A REMARKABLE SYMBOLIC MASTER PIECE OF SILVER SPOONS AND POTS.
THE SPOONS REPRESENT THE UNITY OF OUR BEAUTIFUL PEOPLE IN ALL MEEKNESS,
SINCERITY AND UNTY AND THE SILVER POT REPRESENTS A NEW NATION CLEAN AND CLEAR READY TO START AFRESH WITH ITS RESOURCES.
WHILE THE BLACK POTS REPRESENT OUR WILL TO GIVE WHATEVER IT TAKES, WHATEVER HEAT, WHATEVER STAIN, WHATEVER PRESSURE AND THE PLATE ON THE WALL REPRESENTS THE CHILDREN THAT ARE STARVING AND BEGGING FOR ALMS ON THE STREETS ,
OUR VOICES SHALL COUNT AT THE END OF THE DAY AND I BELIEVE IN A NEW NIGERIA.
MAY OUR DREAMS COME TRUE IN JESUS NAME #AMEN ⛏️🙏
NIGERIA IS BLESSED TO HAVE AN AMAZING SUPER TALENT LIKE ME , BUT OPPORTUNITIES ARE LESS ,
NIGERIA NEEDS TO DO BETTER 👑
#kof41👑
Earrings @fabjewels_official 👸
Makeup @casskoncept1 👑
Hair by @_hairgod 💥
Shot by my super talented husband the lenslord @segun_wealth 👑👑👑👑👑👑👑
Creative Director the king of fashion 👑
IFITS NOT TIANNAH , IT CAN NEVER BE TIANNAH 👑⛏️
#STOPPLAYING WITH ME👑
KING OF FASHION FOR A REASON 👑👸
IM ONE OF ONE 👑
NOTE THIS DESIGN BN COPYRIGHTED ☝️"
See post below:-
Related posts