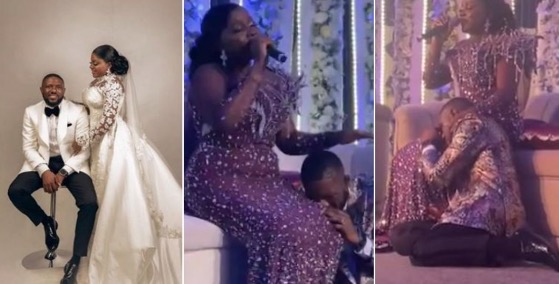 In a vibrant and jubilant celebration, Gospel singer Sunmisola Agbebi and her colleague Yinka Okeleye sealed their union in holy matrimony over the weekend.
The couple had earlier surprised their followers with their engagement announcement, capturing the hearts of many with their beautiful moment shared online.
A video from the wedding ceremony held on Saturday, June 3 captures singer Moses Bliss and the groomsmen offering powerful prayers for the groom.
However, Sunmisola and Yinka took their wedding reception to a different level by incorporating a worship session, surpassing expectations. The couple, deeply rooted in their Christian faith, transformed their special day into a spiritual revival.
The lovebirds' decision to infuse their wedding with elements of worship resonated with their guests, who were moved by the powerful atmosphere created. The ceremony became an opportunity for not only celebrating their love but also rejoicing in their shared faith.
Videos circulating online show the couple alongside their friends who turned up for the wedding passionately leading the guests in a spirit-filled worship session.
Watch videos below:-
View this post on Instagram
Related posts