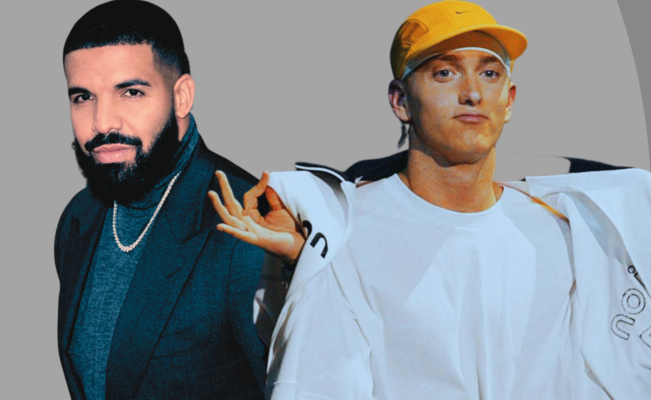 Eminem Surpasses Drake To Become Rapper With Most Monthly Listeners On Spotify
admin, 9 months ago
0
2 min

read
53
The most popular artist on Spotify right now is the hip-hop musician Eminem. Eminem surpassed Drake to become the rapper with the most monthly listeners on the Spotify streaming platform this month, with more people listening to his streaming catalog than Drake.
For the first time in his career, the Detroit Rapper has overtaken Drake to attain this milestone. With Eminem having a few thousand more listeners than the Toronto rap sensation, both artists presently have over 68.5 million monthly listeners.
Given that he hasn't put out an album in more than three years, this is an amazing accomplishment for the rapper from Lose Yourself.
The number of monthly listeners to Eminem's music on Spotify is rapidly rising. While the music was still sold in tangible form, Eminem set a Guinness World Record by selling The "Marshall Mathers" LP faster than any other hip-hop album in history.
With "Not Afraid" from the Recovery album, Eminem became the first artist to ever sell 1 million downloads during the digital era, and now Slim Shady is dominating the streaming era.
Marshall Mathers has just hit 68.55 million monthly listeners, surpassing Drake with 68.55 million.
He is currently 7th most streamed artist in Spotify history with more than 33.5 billion streams in total. The only rap artist that is ahead of him is Drake with a massive 55 billion streams.
Eminem presently has six singles with over one billion streams, 67 songs with over 100 million streams, 229 songs with over 10 million streams, and 268 songs with more than one million streams.
Most monthly listeners by rapper
1. Eminem – 68.55 million
2. Drake – 68.55 million
3. Bad Bunny – 64.1 million
4. 21 Savage – 61.0 million
5. Kanye West – 52.2 million
.@Eminem (68,558,427) has now surpassed @Drizzy (Drake)(68,553,088) to become the Rapper with the most Monthly Listeners on @Spotify. pic.twitter.com/LInvPs7auS

— EminemData (@EminemData) March 13, 2023
Eminem is the first rapper to ever hold the top spot on Spotify, and the first rapper whose career began in the 1990s. With approximately 1.7 billion listens, Eminem's Grammy and Oscar-winning classic single "Lose Yourself" is the most streamed song on Spotify.
Related posts