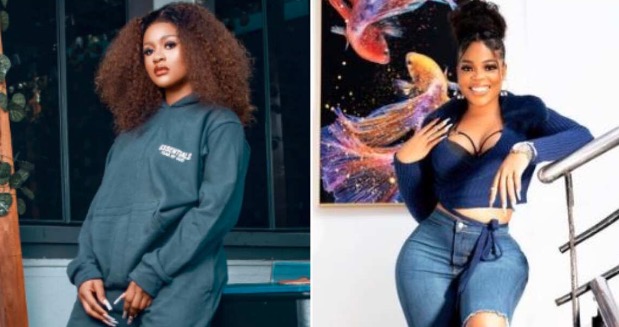 During the BBNaija reunion recently, Phyna verbally attacked Chichi and made many accusations.
The BBNaija winner blasted Chichi with a messy motherhood story, mentioned her parents and even claimed she poisoned a friend in Cyprus.
In a comeback, Chichi, through her lawyers, has dropped a statement ordering Phyna to retract her statement and made it public.
Chichi's attorney made it clear that Phyna's statement is mere slander and that none of the things she accused Chichi of happened.
The BBNaijs star is ready to slam a N100m lawsuit on her colleague and see it through if the initial condition of retraction is not met.
See post below:
View this post on Instagram
Reactions:-
The move by Chichi got people praising her as netizens noted that Phyna went too far.
Read some comments gathered below:
happiest_gurl07: "She deserves it next time phyna will control what comes out of her mouth: jealous of what?! Is chichi not glowing and ejoying?!"
_mzkysha: "I'm a fan of phyna but then that wasn't her story to tell."
prettymagbe_luv: "If there's no proof about her poisoning her friend then phyna deserves to be sued Cus u can't come online to say trash all in the name of I wan trend or talk say nah me my mouth sharp pass… mind u I nor Dey famz any one."
beibahh__: "Chichi's lawyer and caramel's lawyer finished from same school "
wiysahnyuystephanie: "Very good Chichi the fact that it didn't end in the reunion she still brought it to Snapchat was aching chichi is correct."
juicy3560: "Which rubbish jealousy are you talking about? Chichi is better than Phyna please "
amyluv_official: "Chichi well done ma. Phyna said chichi killed her friend due to jealousy that's not kids talk oh."
christiana.uju: "She didn't sue bloggers that carried the gist first even the girl that made the video that she poison her na phyna she go sue."
seczyluv: "Those allegations are too much if they are not true, she needs to pay something."
Related posts