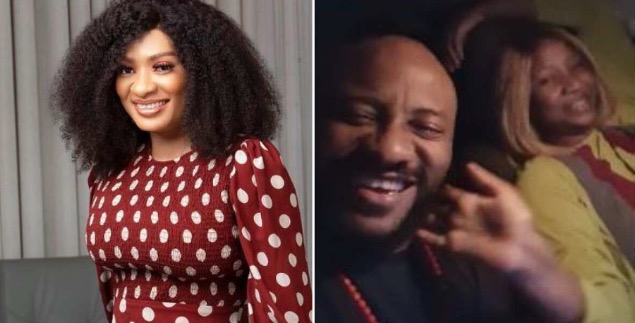 Yul Edochie has continued to keep up an unbothered front since his marriage with his first wife, May took a turn for the worse.
According to reports, the filmmaker's wife has submitted a petition against him and will be officially divorcing him soon.
Yul who has been dropping back-to-back content with his second wife Judy Austin, shared yet another moment.
In the video on his Facebook page, the actor sang along to a song playing on the car stereo and the actress chipped in a couple of times.
Yul laughed happily as he gestured wildly and Judy egged him on with cheers.
Watch the video below:
The actor's comment section was full of comments from people, pointing out that he does not feel as happy as he looks in the video.
Read some comments below:
Clara Chinyere Oguibe:
"This is just a cover up, a make believe for people to believe he's happy while he is full of regrets."
Nsuani Akule:
"Even the voice shows that you are in pain but smiling."
Calistus Nwadike:
"I love it give it to them back to back. Otolo gbagbuo ndi omekeome."
Endurance Keyamo:
"Internally displaced lovers roaming about in the middle of the night."
Mary Chris Nwangele:
"In everything i do lord may i not fake happiness "
Meedubari Smith Allison:
"Oh God…deliver your son as soon as possible."
KC Peters:
"You need rest oo..coz you re ageing fast this days with stress showing all over..Yeye people."
Thato Nelson:
"I see stress written all over your faces!! I know some people will call it happiness Yul is even drunk."
Related posts