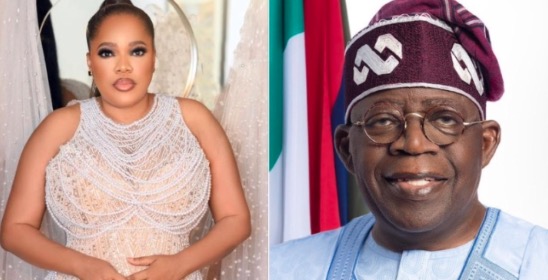 Nollywood actress, Toyin Abraham-Ajeyemi has penned an open letter to President Bola Ahmed Tinubu following his swearing-in as the President of the country.
In the letter, the wife of actor, Kolawole Ajeyemi revealed why she supported his candidacy despite the heavy criticisms and backlash she received.
Toyin stated that she is not motivated by ethnicity or religion when it comes to her choice of leaders.
Her support for Tinubu is because of the good he has done as a senator and a governor and she believes that he would do better as President.
The mother of one noted how it's impossible to get him to be supported by everyone, however, his victory suggests that he is the choice of majority.
Toyin Abraham expressed how saddened she is that people have cooked up the narrative that she was heavily paid by him, whereas, her support for him is of her own accord. The Thespian then urged the President to listen to the concerns of the people, address their fears about the future, and restore citizens' hope because everyone is watching.
Read her open letter below:-
Related posts