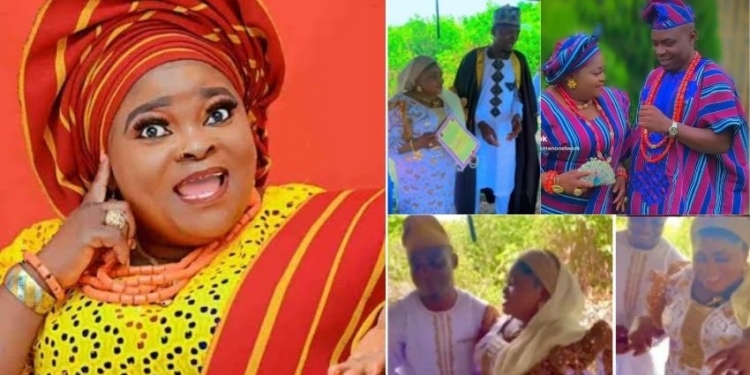 Nollywood actress, Kudirat Abeniade Soremi popularly known as Mama No Network, has officially tied the knot with her lover in a private Islamic wedding.
In a video shared on her Instagram page, the dramatic Yoruba actress could be seen with her new husband performing Islamic wedding ceremonies.
Mama No Network and her husband exchanged rings and kissed as friends and family of the couple cheered them on happily. The actress was formerly married to comedy actor "Lanko Omo Oba Dubia"
Many of her fans congratulated Mama No Network on her marital journey.
Other Nollywood stars like Toyin 'Tomato' Adegbola, Kemi Korede, Fausat Balogun aka Madam Saje, Sisi Quadri, Bose Aregbe amongst others, also took to the comment section to wish her a blissful wedding.
Mama No Network responded by thanking her colleagues and captioned the video:
"Being deeply loved by someone who gives you strength, while loving someone deeply makes you feel much lo
See Reactions:-
Related posts