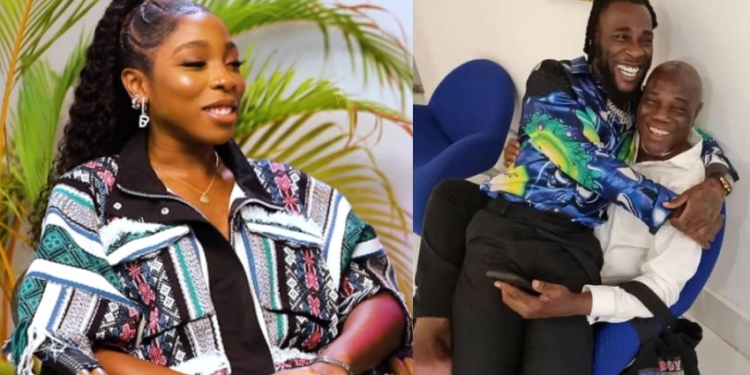 Nissi Ogulu, a Nigerian singer and sister to Grammy Award winner, Damini Ogulu aka Burna Boy has opened up on how their father is not the typical African dad.
Nissi who is multitalented, is a musician, an artist, a business woman and has worked in tech.
During a fresh interview with media personality, Chude Jideonwo, Nissi opens up about her mother who we are very familiar with at this point, and also her father, a man we don't hear that much about.
Speaking about her mother, Bose Ogulu's fearless personality, Nissi stated:
"Oh yes. She is the creme de la creme. 100%. I give her all the accolades.

…It's almost a vague memory but I can't remember quite why we were there but we were in a room with a lot of governors and I think there was a debate on languages and business mentalities, and I just saw her stand up and walk into the middle of the room and basically quiet everyone.

And she starts to explain her methodologies and her ideologies and breaks down the importance of understanding cultures. In that moment, I just thought 'ah, this woman is a boss'. Because it got everyone thinking, and she's very good at that. She speaks and you think about what she has said. So that is a moment that I remember."
Asked about her father, Samuel Ogulu, Nissi excitedly revealed that he is very selfless and not a typical African parent who barely builds good relationships with their kids. In her words:
"Oh my guy, my gee! Oh, he's a champ, I will say. I think he is what I would want anybody I eventually end up with if I get to that point to be when it comes to parenting.

He is very ready to go above and beyond for his kids without – he doesn't do the whole typical African dad thing, which I always found to be funny when I would go to other people's houses and dad comes home and everybody is shaking like 'good evening sir'. It's always been very jump on my dad, tell him anything, him being there for you, teaching you how to drive, painting your nails.

…Yeah, he used to paint my nails when I was a kid, that was a bonding moment for us. And then being the business man he is himself. Just always supporting his family and being ready to push both his wife and his kids if needed without wanting to take the spotlight."
Related posts