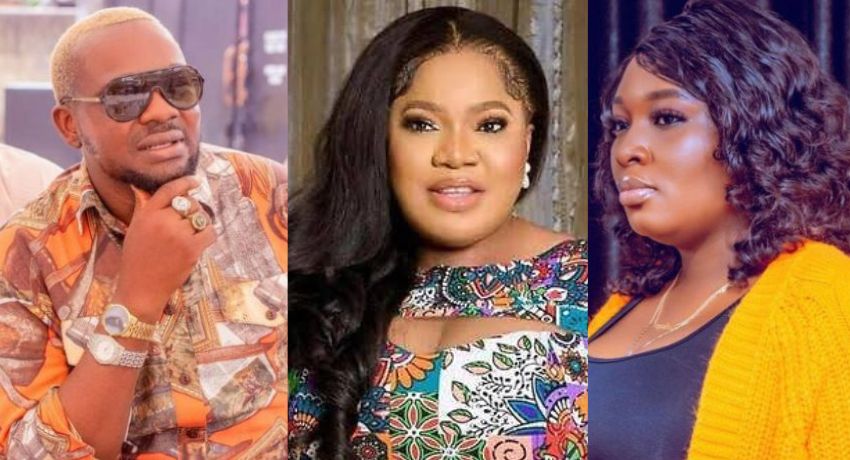 Nollywood actor Yomi Fabiyi has revisited his sex-for-role drama with colleague, Mo Bimpe, claiming that many men in the industry had sexual relationship with her while referencing Toyin Abraham in his exposé.
In a recent interview, Yomi Fabiyi recounted how he helped Mo Bimpe rise to stardom by starring her in his movie when nobody knew her.
He revealed how Mo Bimpe betrayed and dumped him after he helped her career-wise and made Toyin Abraham her mentor. Yomi claimed that the Toyin who Mo Bimpe has made her mentor didn't bother to respond to her greetings when they first met at his location.
Yomi reiterated that he never asked Mo Bimpe for sex before starring her in his movie.
He alleged that the wife of Lateef Adedimeji was trying to use him as scapegoat and accuse him of sexual assault after sleeping with many more before marriage. He said in part:
"I made Actress Mo Bimpe who she is today by starring her in my movie when nobody knew her and I never asked her for sex before I put her in the movie. The Toyin she made her mentor today didn't respond when she greeted her the first time they met at my location. Why is she screaming my name for Sexual assault when many men have slept with her before she settled down".
Recall that for years, there have been rumours of Mo Bimpe and Yomi Fabiyi involved in an affair when they were working together.
Contradicting the reports, Mo Bimpe stated that Yomi didn't ask her out until she finished shooting his movie, Oko Iyabo which shot her into limelight.
According to her, Yomi stated that if he knew she would have turned his proposal down, he would have made his feelings known before shooting the movie with her.
Mo Bimpe added that she isn't in talking terms with the actor because he told her to either date her or be enemies with her and she had no choice but to choose the latter.
Yomi Fabiyi however refuted the claims and shared a photo of Mo Bimpe with attached evidence of how their conversation started. Then in a lengthy post he blasted the actress, emphasizing that he never offered her or anyone sex for role.
See Yomi Fabiyi's interview video below:-
Related posts