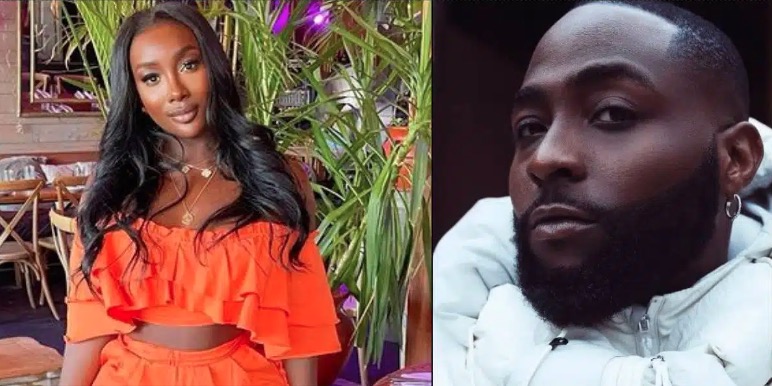 U.S. model, Anita Brown gives up on fighting the superstar singer, Davido, as she rounds up the pregnancy saga with some Bible preaching.
After days of unending tantrums at the singer and his family, the American adult star has waved the white flag and vowed to move on to raising her child on her own.
In a lengthy thread via Twitter, Anita Brown spoke about how she came from nothing, unlike Davido who was fed with a silver spoon.
She pressed on to talk about the New Testament and how women were disadvantaged from learning the preaching of the gospel while stating that her voice must be heard.
"Y'all said it Ima have a fatherless child with no money. So now I'm chasin clout cause I'm going to make money on my own like i always have. And help others in need like i always have and always will! God did this on purpose What The devil used for bad God will turn it for good.
See the thing about Jesus. All throughout the New Testament It was all about woman. Woman were the outcast. Woman were the mistreated Woman were the ostracized I went to school and studied the Bible These woman that went after Jesus were prohibited to even learn religion.
But those woman didn't care They were BOLD & BRAVE ENOUGH & as a result they got a blessing from GOD!!!!!! People have put limitations on woman since DAY ONE & blamed us for the downfall of man! I know why I'm here! Do you?
I forgive myself for everything l've done while in survival mode Sorry i wasn't born into a billionaire family, where my father can pass me down a jet and l'm just a spoiled brat narcissistic manipulator who gets whatever they want & when they don't they throw a tantrum.
I'm not that girl! I come from struggle & worked my way up 2 get what i want in life & am showing others how i was able to do it. Y'all boy loves that about me,so why y'all hate me for my past so bad. That's the dream, to go from the bottom to the top from hard work & resilience
I've dealt with with men of many backgrounds Rich & famous Some rich not famous Some broke But i refuse to be abused and disrespected & i acknowledge who Iam and my intelligence to take a stand I have a strong belief system & a strong relationship with God God is my fortress.
Im past David now I told you after today I'm done I said all i have to say regarding him I'm onto the GLORY The haters still bashing me I'm over here thinking how to fulfill my pregnancy & how to make this world a better place. Starting with woman Starting with God."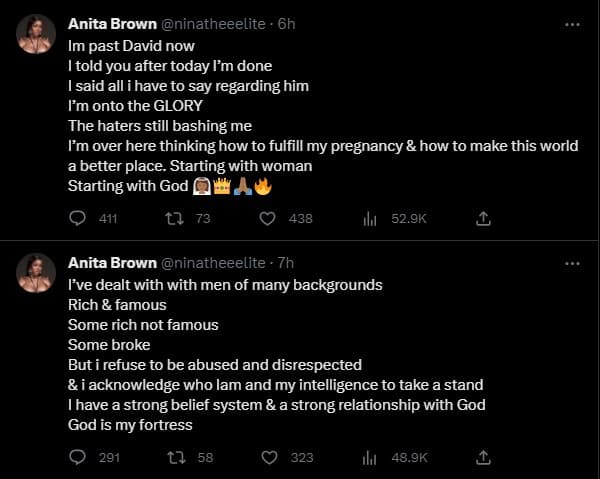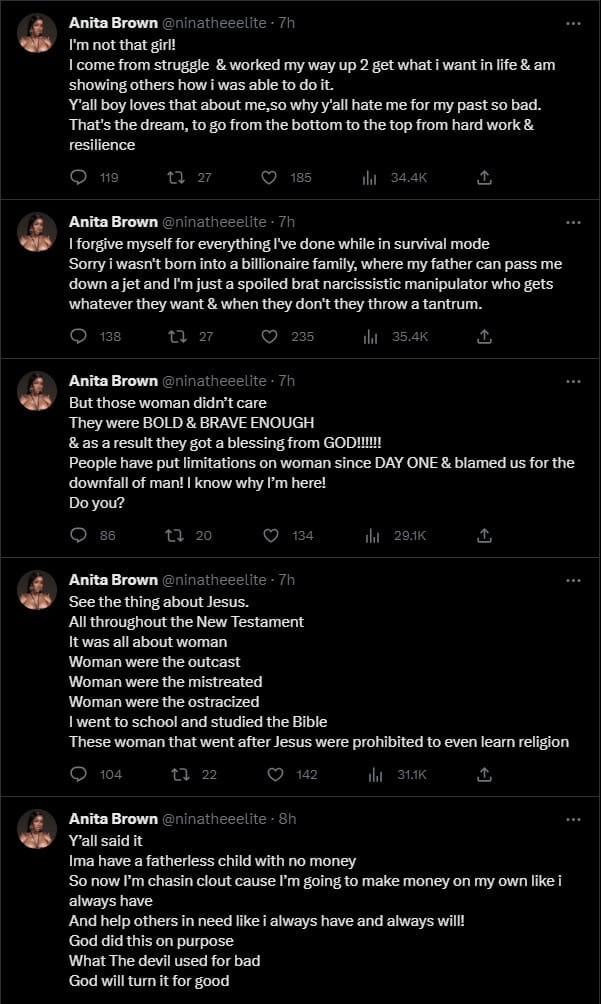 Related posts