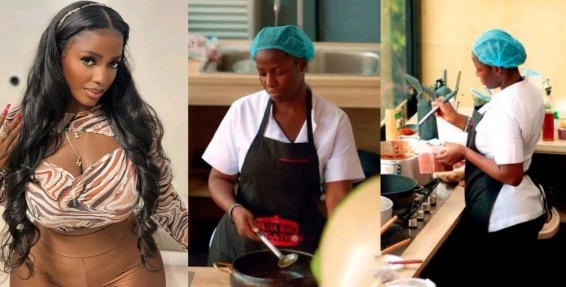 A new clip of Nigerian chef Hilda Baci sharing her personal experience during her 'cookathon' in Lagos state has caused an uproar online.
Hilda, in an interview with TV3, revealed that she was on her period throughout the four days of cooking and this made it more difficult for her.
According to the Chef, her monthly flow came early due to stress and her father was worried about her because he knew how horrible her period cramps could be.
Her words;
"I was on my period the entire time and that made it extremely difficult and extra hard. What that meant was it took away from the time that I had to rest.

"I was trying to rack up cause I get 5 minutes every time I completed 1 hour. So if I stand for one hour I had 5 minutes to rest. And I still had to do my medical checks. God bless my medical team. They were on ground.

"Because I was on my period I had to take a shower every single break I had. If I had 30 minutes I had to take a shower in that time because I had to change.

"My dad was worried because I have horrible cramps. Like really horrible cramps. So pushing through that means I can conquer things in this life."
WATCH HER SPEAK BELOW
Nigerians have been eagerly waiting on Guinness World Records to verify the achievement of Hilda Baci.
The Nigerian chef broke a record at Amore Gardens, Lekki, Lagos state after she cooked for 100 hours.
Guinness World Records in an update shared via their official Twitter account revealed that their team is currently working on it.
Related posts