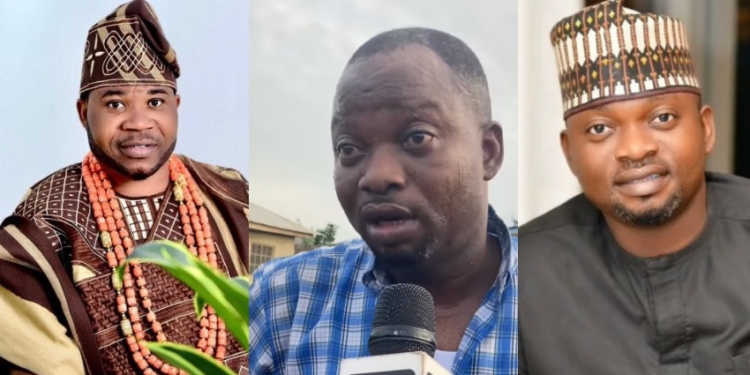 Popular actor, Adekola Tijani professionally known as Kamilu Kompo has expressed his grief over the death of Nollywood actor, Murphy Afolabi who died on Sunday morning, May14, 2023, after allegedly falling and hitting his head in the bathroom.
In a heart-wrenching tribute video that has been circulating on social media, Adekola Tijani described Murphy Afolabi as someone who doesn't take life too seriously and explained how he has been friends with the deceased actor. He revealed that they had a conversation just thirty minutes before his sudden death was announced.
Kamilu explained that Murphy Afolabi made some statements about death during their last conversation but he didn't take cognizance of them because the deceased was still in his jovial mood when they spoke. Translating in English, Kamilu who spoke in Yoruba language said:
"…When he was alive, he always wanted us to do things together. We can't question God but l'm really touched. He was still young and we started together. I shot his first movie and he was the first person that discovered my acting skills. We have done a lot together, we have fought and settled. I know everything about him.

"We still spoke yesterday, we spoke around 9:30 and he fell around 10 am. I was called immediately and we drove him to the hospital but he died before we got to the hospital."

"He called me after his birthday that I should come and take some the clothes he used for his birthday shoot. I told him not to worry but I didn't know he was passing a message across to me".

"Yesterday, he sent money for a contribution we always have on Sundays, he sent it early and I questioned his choice to send it early. His response was we don't know what will happen the next day or in the next minute, I didn't know he was bidding me farewell".
See a video of Kamilu speaking below:-
Related posts