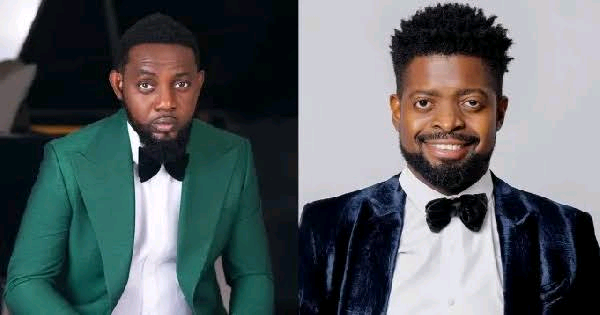 Ace comedian and actor Ayodeji Richard Makun aka AY, has yet again opened up on his beef with his colleague, Basketmouth.
Recall in 2022, AY during a question and answer session via his Instagram page, said Basketmouth has an uncontrollable superiority complex
The filmaker said to keep his sanity he had to avoid his colleague's incessant childishness.
AY was recently a guest on Media personality Chude Jideonwo's show and he shed more light on his Controversial statement in 2022.
According to him, his rift with Basket mouth started in 2006.
His words;
"In 2006, (Basketmouth) usually will get gigs Iike weddings- multiple gigs on a Saturday, maybe 2/3 weddings. So what he used to do at that point in time was to attend one, then at a point, leave the venue and catch up in the other venue and then you will need someone else to stand in for you. That was the opportunity 1 got from him of which I am very appreciative of till date.
"Now, Something funny happened. One of the gigs per say, I got his endorsement to go stand in. Usually what we get at that time is N30,000 and 30,000 at that time was everything to me. 30,000 would buy me my pack of indomie, recharge cards, fuel for my 1 better pass my neighbor generator and then opportunity to pay just one or two people to join me to do one or two skits that I can just quickly put out.
"I got this job and the people weren't too happy to see me around the venue because they were expecting a Basketmouth to come. Long story short, the guy was later happy after the performance. There was an exchange of contacts. Then I left. Two weeks running, I haven't seen 30k. Because I didn't see the 30k, and I was starving in lponri, I decided to ask for 30K and he said this person hasn't remitted, this person hasn't paid, you they' re not happy because of this and all of that.
"And then me l was like, ahahn… but this person na, shebi you tell me say you were impressed and happy? Give my oga hin money na, make my oga take settle me and all of that. Me,I dont care if you give Basket 100k for the job but my 30k is my 30k.
"It was very funny to now hear from them knowing that this full payment has been made long before the event.
"I said '0-kay, is that the situation?'. So I forwarded this one's message to this one and vice versa. So they now started fighting each other and all of that. 1 didn't do that because I wanted to get at Basketmouth per say. I did that because I was hungry, I was hustling and needed food on the table at the time."
SEE INTERVIEW BELOW:-
Related posts