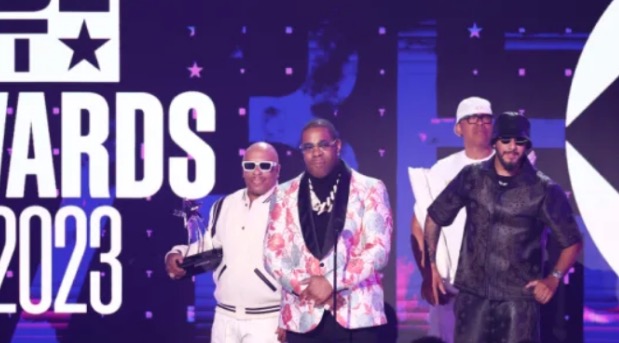 Busta Rhymes Gets Emotional Receiving 2023 BET Lifetime Achievement Award
admin, 5 months ago
0
2 min

read
298
On Sunday, June 26, Busta Rhymes received the Lifetime Achievement Award at the 2023 BET Awards. The Hip-Hop legend was honoured by Swizz Beatz and Marlon Wayans as a sizzle reel showcased Busta's brilliance.
Throughout his career, he has collaborated on music with many artists, including Missy Elliott, Diddy, Mariah Carey, Pharrell Williams, Chuck D, and others. Following the dissolution of his group, Leaders of the New School, the "Dungeon Dragon" took the stage and gave a protracted, emotional speech about his origin story.
"All right. So, I'm going to wear it on my sleeve. I do want to cry," Rhymes shared, as the crowd cheered him on.

"I'm going to say I am grateful that the blessing that has been bestowed upon me and this gift that I have been given and this fire that continues to burn as a passion in my soul, that allows me to get into any situation — from the stage to collabing with whoever — and making sure that I am far from the weak link."

"Because I enjoy walking away from a situation saying, 'I bust a**!' It's just me trying to continue to advance the culture and continue to contribute in a significant way," the Brooklynite added. "I see so many people in here that I have known and grown with for a long time, you're watching me grow and I love y'all and I know y'all love me."
Between his lyrics, epic music videos, and entertaining performances @bustarhymes for over 25 years has given us timeless music. Tonight 👑 we give you your flowers with this #BETAwards Lifetime Achievement Award. ✨#CulturesBiggestNight #HipHop pic.twitter.com/OiRYrDar0z

— BET (@BET) June 26, 2023
Busta isn't finished yet as the legend recently dropped off his latest single, "Beach Balls" featuring BIA. The summertime single was released on Friday (June 23) and featured the two rappers trading bars on the beach.
Michael Garcia directs the raunchy video, which is shot in a panoramic style using a seemingly continuous shot, with each scene seamlessly attached to the previous one.
Related posts