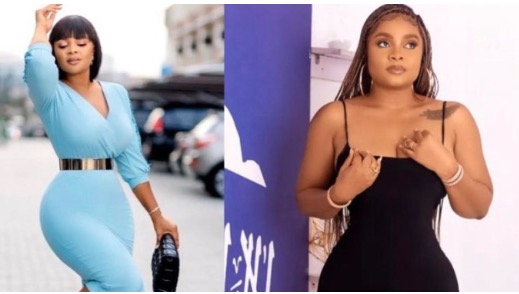 Popular Nigerian film actress, filmmaker and content creator, Bimbo Ademoye has revealed why she would never consider going back to her past relationship.
According to Bimbo Ademoye, she will never return to her ex lover because going back is like leaving Jesus to follow satan.
The Thespian disclosed this in a funny video she shared on her Twitter handle recently.
In the video, Bimbo is seen dancing to 'How can I leave Jesus to follow satan' after she was asked what she would do if her ex wants her back.
She went on to caption the video:
"Me I don leave everything for God hand oh."
Bimbo Ademoye's post elicited mixed reactions with many fans applauding her for her decision while others felt it shouldn't be a big deal going to one's ex.
See video below:
Bimbo Ademoye who is said to be in a romantic relationship with media personality, VJ Adams recently sparked some funny reactions due to her birthday message to her alleged lover.
On the 5th of May, Bimbo Ademoye took to her Instagram page to wish VJ Adams a happy birthday while praying for God's protection over him.
Trying to remain casual despite rumours of their romantic relationship, Bimbo Ademoye ended the post by stating that she loves him, while calling him her "brother". The Thespian also stated that she is his sister, followed by laughter emojis. Sharing a photo of VJ Adams, she wrote:
"Omo Alhaja, paddy mi to sure ju, ibro makanaki, up omo adugbo, fine boy looking gehgeh, my personal person. Selfless to the core. You're such a breath of fresh air. One of the sweetest humans ever. If only people know how crazy you are underneath that fine face with plenty bear bear 🤣🤣🤣. I pray for you from the deepest part of my heart, alone or with multiple, may all that you wish for come to pass, I place you under his canopy of protection. You're love you are light therefore everything you touch shall turn to gold. It's your birthday today but I'd celebrate you all year long . Happy birthday Ibrahim. Loads of love "Bro". Xoxo your Sis🤣😅😅@Iamvjadams"
Bimbo's post sparked funny reactions from her fans who seem to be in the know of her alleged relationship with the Media Personality.
Playing along, many teased that they can see that the duo are indeed siblings.
Related posts