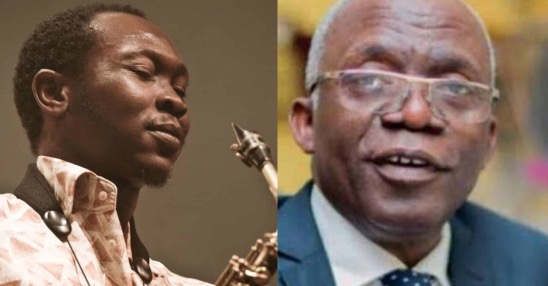 Femi Falana, a human rights lawyer, has revealed that Seun Kuti, a Nigerian Afrobeat singer, will report to the police on Monday, following the arrest warrant issued by the Inspector General of Police, Usman Alkali Baba.
It was reported that this comes following the speculation that a team of police stormed Seun's home at Allen Avenue on Sunday, but met his absence.
Falana told PUNCH on Sunday that the embattled singer sought his legal counsel following the assault on a police officer.
He also confirmed that the singer has enough evidence to defend himself and that this is not his first encounter with the police.
He said;
I am his lawyer and he has briefed me. He certainly has evidence. This is not the first time he is dealing with the police.

He is going to report himself to the police tomorrow morning. There is no problem at all.
Remember how a viral video showed Kuti confronting the police and then pushing and slapping him?
Seun's wife eventually came down from the vehicle to calm him down, but he went ahead and slapped the cop.
Kuti took to his Instagram story after the video of the assault went viral to explain that the officer attempted to "kill" him and his family.
Following that, the Inspector General of Police ordered the singer's immediate arrest.
Akali Baba also ordered a thorough investigation into the circumstances surrounding the assault and the prosecution of Seun Kuti.
Related posts