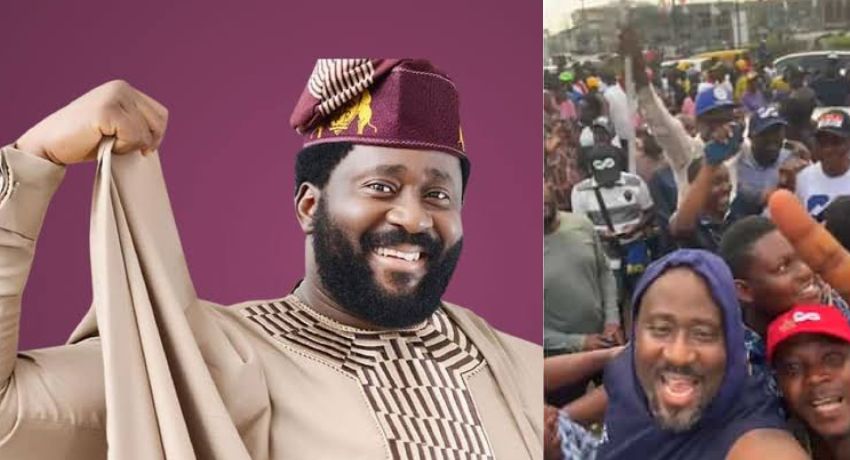 Nollywood actor cum politician Desmond Elliot could not contain his excitement as he took to the streets with others to celebrate his preferred presidential candidate, Bola Ahmed Tinubu, as Nigeria's new president-elect.
The entertainer took to his official Instagram page with a video showing how he and other All Progressives Congress (APC) supporters hit the streets of Lagos to celebrate their victory.
Desmond Elliot took his spot among the supporters who happily waved flags of APC in the air and sang PSquare's Bunieya Enu song, among another. He captioned the post:
"Congratulations Naija Renewed Hope !!! JAGABAN Hope Renewed."
Many took to the comment section to react to his post, especially for playing the song of Psquare—staunch supporters of Peter Obi, the opposition party.
See below:-
adinmasomadina wrote: Of all songs they chose p-squares bunie ya …Hmmmm I'm lost of words sha.
nnenna_blinks_ wrote: Since this man joined politics he automatically became unattractivè
emekadarlington wrote: He never reason him own winning on the 11th oo….anyway his God Father has won so loyalty pays
moh.couture_ wrote: This APC people get mind sha, una still Dey sing psquare song, ok..
mc_daprince said: Politics is just a game , one must win, it's like bet Naija either you win or you lose. Congrats to the winner but sir please make a Nigeria a better country, remove tribes and Religion. Just take us as one.
icent_rex wrote: No wonder. Na Desmond Elliot cause am
jossidu wrote: Obidients bullied people to thinking no one supported Tinubu. Many people wanted Tinubu but the fear of saying it on the internet was the beginning of wisdom. E no mean say them no still rig sha, the rigging loud.
Related posts